UPDATED 1/15/21
Fire suppression systems are critical safety components when it comes to protecting a building against fire. They are essentially used to put off, contain or prevent fire from spreading in the building, causing extensive damage, loss of property and possible injuries. Sprinklers reduce the amount of water used to fight a fire by up to 90%.
Fire Sprinkler Design Training
Fire sprinkler design training is the course designed to offer in-depth professional knowledge on everything about fire suppression systems including layout detail and calculation of fire sprinkler systems, different types of fire suppression systems and the actual design process.
The course generally covers requirements and certification procedures and specific codes addressed by NFPA 13 such as inspection, testing, and maintenance of automatic fire sprinkler systems. The NFPA 13 is considered the standard for the installation of sprinkler systems and it forms the foundation of fire sprinkler design training.
If you are looking to build a career out the end of the training, the course will equip you with the practical skills necessary for the job market. You'll learn more about fire codes and industry-standard practices to encourage professionalism.
Duties of a Fire Sprinkler Designer
The primary function of a sprinkler designer is coming up with an efficient fire system plan that complies with building codes and is within the industry and legal framework. Other job functions include:
Read architectural blueprints
Developing a preliminary fire sprinkler layout
Design different types of fire sprinklers for different applications including residential and commercial
Conduct analysis and advice on the need for fire suppression systems
Developing layout detail, installation, repair, maintenance and hydraulic calculations
Conduct system simulations that check for errors or fault connections to ensure efficiency
Cost calculations and order materials
Annual fires sprinkler system inspection
Top Skills for a Fire Sprinkler Designer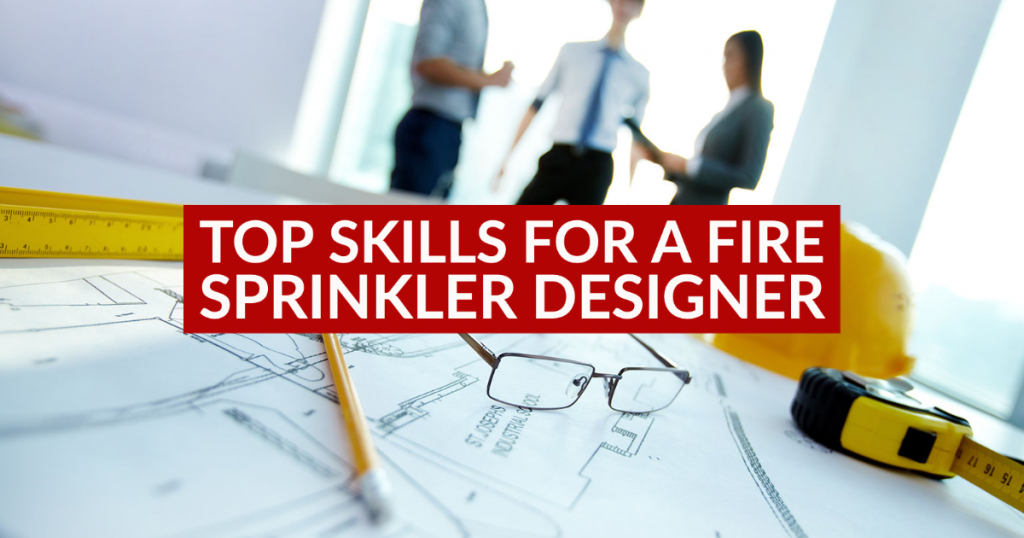 As a fire sprinkler designer, some of the skills and knowledge you'll require when it comes to field application include:
Sprinkler systems
Engineering basics
Hydraulic calculations
NFPA codes and standards
System design
System development using CAD
Fire alarm systems
Health and safety engineering is a multidisciplinary field that covers an array of applications in ensuring healthy and safe working environments. Here are some of the main types of health and safety engineers:
Fire prevention and protection engineers are certified with in-depth fire sprinkler design training. They conduct a fire hazard analysis, system design and installation, as well as maintenance. Conduct simulation and performance testing to ensure that the fire sprinkler system is in compliance with building codes and meet legal safety regulations.
Product safety engineers are responsible for ensuring products are in compliance with legal or industry standards. They develop and inspect product safety levels to detect and eliminate potential hazards. Product safety engineers often work in the manufacturing industry though they can be applied in different sectors such as medical and software safety.
System safety engineers ensures a system design is both efficient and safe by identifying and eliminating potential safety hazards. They are used in various fields such as medical, software, automation and aerospace.
Requirements to Becoming a Certified Fire Sprinkler System Designer
For you to become a certified fire sprinkler designer you must have a bachelor's degree in health and safety engineering. The course entails lecture sessions, laboratory classes, and field studies. In addition to these study modules, engineering students pursuing the health and safety field should consider also taking courses in occupational safety and industrial hygiene, work-related ergonomics and environmental safety.
Fire sprinkler design training is an important process to create the next generation of fire safety designers. A well designed sprinkler system can be incredibly effective when it comes time to stop a fire. How effective are fire sprinklers? The civilian death rate 81% lower in homes with sprinklers and the injury rate was 31% lower in homes with fire sprinklers. The numbers don't lie, even old fire sprinklers can help stop a fire and prevent injury or worse.
The Importance of Fire Sprinklers
A fire sprinkler is a key component of any home or business fire protection system. With each state having its fire sprinkler regulations, it is easy to have access to a reliable and adequate company that installs fire sprinklers. There are four main types of fire sprinkler systems – wet pipe, dry pipe, deluge, and pre-action and each of these has its unique characteristics and uses. An efficient fire system needs to be monitored regularly and that is why there are fire sprinkler monitoring companies that are equipped with the resources to know how to install and connect a fire sprinkler to a functioning monitoring panel. Nowadays, buildings that have fire sprinkler systems are required to have a fire alarm feature that will control conditions such as water flow, low pressure, and the gate valve. Fire sprinkler size will determine the effectiveness of the fire system. A home fire defense system is automatic which makes it rapid and an effective system that does not rely on human intervention. An adequately designed system will ensure that it not only controls fire damage but it will localize water damage as well which will result in reduced property damage. This will also help with reducing insurance premiums when compared to a home or business without a fire sprinkler system in place.
The damaging properties of fire have been known since we lived in caves. Fire has destroyed buildings and communities for as long as there has been building and communities. Fire sprinkler design training is a way to control the uncontrollable. Once you understand how effective are fire sprinklers, you'll understand how a well designed system is the best way to protect your family and property.
More:
3s fire training, academy sprinkler, academy trampoline sprinkler, fire protection online, fire protection training, fire sprinkler certification, fire sprinkler contractor license florida, fire sprinkler school, fire sprinkler technician training, fire sprinkler training near me, fire suppression certification, fire suppression certification training, fire suppression system training, free nicet training online, nfpa 25 online training, nfpa courses, nfpa free online training, nfpa online certification, nfpa online training courses, online fire ce, sprinkler certification.